Film & Television Interviews
BBC News Sleep Disorders Interview
BBC News Hypnosis Interview
Hypnosis Session for Sky TV
Glenn Harrold 1983 TV Interview
Is Glenn Chelsea's secret weapon?
RTV Marbella TV Interview 2019
---
Other Interviews
Interview with Kyra Letzo 2022
Interview with Pompe Strater-Vidal
Interview with Selena Valentine
Interview with Sandie Sedgbeer
Interview with Julie Seibert
May 2009 Bizzibox Interview
Interview with Caryn Bird
Interview with Pompe Strata-Vidal
Interview with Heather DeVore
Interview with Kelly Blaser
Interview with Olga Szwed
Interview With Prash Kotecha
Interview with Naomi Sodomin
---
Press & Web Reviews

USA Today - Top 10 Meditation Teachers in 2022
"The right meditation teacher can even help to unlock the potential we've kept hidden away from ourselves."
USA Today 2022


---
Glenn's interview with Healthline. A Little Help Here: Sleep
Healthline


---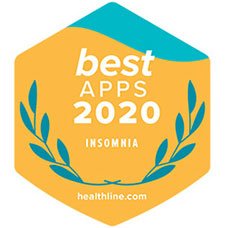 Glenn's Relax & Sleep Well App has been included in Healthline's list of the Best Insomnia Apps of 2020! "Healthline's editors carefully selected each winner based on quality, usability and contribution to the community." You can see the full list here.


---

"Glenn Harrold gets our gold star this month. Glenn is a huge inspiration after overcoming his own life struggles to achieve success by helping others, and is one of the most selfless, lovely people we have ever had the pleasure of working with."
Prediction Magazine
---
"Hypnotic heartbeat paced sound effects and heavenly music lull you into a relaxed state and boy do they work."
Sophie Campbell - The Sunday Telegraph
---
"I was startled by the effectiveness of this self-hypnosis audio."
Christina Hardyment - The Times
---

"This (Energy & Motivation CD) sent me into a state of complete relaxation, physically and mentally. It helped me sleep too."
Sunday Express Magazine
---
"I can honestly say that the effectiveness of Glenn's methods absolutely shocked me. I had entered the room as a sceptic and was blown away."
Carole Marsh - Women's Fitness Magazine
---
"In the end I chose a CD called Raise your Energy and Increase your Motivation by Glenn Harrold. I'm not sure it's going to work. But soon my head is heavy, and before I know it, I am out for the count. The next morning I feel strangely zingy and at lunchtime I race over to the salsa water aerobics class at my local gym. Was this one of Glenn's sneaky subliminal suggestions?"
The Huffington Post
---
"The cover blurb claims he will lull me into a state of deep relaxation then deliver encouraging messages to my brain. I stick with it over the next month and it pays off. I get up without railing against my fate. I wear my jogging pants for more than just watching telly."
The Guardian
---

"You will then be able to listen to an amazing and relaxing session. I am not just saying this, but the sessions are absolutely amazing."
iPhone Life - Review of Glenn Harrold's Relax & Sleep Well iPhone App (May 2016)